Collaborate for a better tomorrow
Necessity is the mother of all invention.  Once the original need is satisfied, evolution kicks in and gives birth to the need of making the invention better. This evolution, teamed with the never ending endeavor of humans to create better "products" and "services" is what fuels the need to collaborate. Such partnerships sometimes go beyond logical and industrial boundaries.
Looking back a couple of years, our lives and our needs were much simpler, but with advancements in technology and science, our needs also grew.  In the process of addressing those needs we developed some very interesting business models that were unthinkable earlier. Companies and Organizations that belong to distant industries are coming together and developing new products and services which they would have never even thought about in the past. All this is made possible by systematic collaboration between these organizations.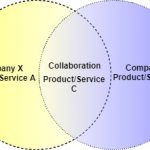 Today's complex  needs cannot be addressed by open innovation alone but through
Collaboration,
Co-creation,
Coordination and
Combination of capabilities to create hybrid projects
Collaboration between two good ideas multiples the result and the possibility of sharing resources and expertise always enhances the final product.
There are not many companies who have tried this model yet. I will list a couple of those adventurers who have dared and successfully created a hybrid "product" or "service" that has benefited both the companies involved.
1)     Coca-Cola and Heinz
Plant-BottleTM – Created in 2009 by Coca Cola, it's a plastic (PET) bottle partially manufactured (~30%) with materials derived from plants like sugar cane and molasses and other byproducts of sugar production. The remaining 70% was made with materials derived from fossil fuels such as petroleum.
Coca-Cola has collaborated with Heinz (to use their bottling factory) to build the next generation of the Plant-BottleTM which is made of 100% plant derived materials and plant residues. In the year 2011, Heinz had already used around 120 million of the new generation PlantBottlesTM in the US market.
The use of these PlantBottlesTM can reduce  carbon footprint by 12% to 19% and can be used for holding carbonated beverages, water and juices.
2)     American Express® and Foursquare
Foursquare is a popular social network with more than 7 million potential customers. American Express® has partnered with Foursquare, allowing users of the social network, access to special offers and prizes when they use their mobile phones to check in at their favorite businesses. The service exploits GPS tracking on smartphones. Once American Express® cardholders sign up on the Foursquare network, they can enjoy  special offers from participating merchants. This alliance has established a new relationship between online consumer behavior and offline consumer habits, encouraging consumer evangelists to recommend products and services to their friends.
3)     NASA and LEGO®
NASA and LEGO® signed the Space Act Agreement, which is a three-year collaboration agreement to encourage learning science, technology and mathematics.
Under this Agreement, NASA astronauts use LEGO® models and toys in the International Space Station (ISS) to demonstrate  scientific ideas and perform  experiments. For example some involve the analysis and monitoring of small machinery under the influence of weightlessness (microgravity). This includes LEGO® versions of satellites, a space shuttle and a scale model of the International Space Station.
NASA, in return provides research information to LEGO® to help develop new, realistic LEGO® models.
The most important part of this collaboration is that it benefits young people and encourages them to take up STEM (Science, Technology, Engineering and Mathematics) fields.
4)     Mercedes-Benz and Facebook
At around 1.94 billion users and growing, Facebook is the world largest social network. Facebook has already conquered computers, tablets and smartphones and is now planning to take over the screens that remain viz. televisions and car entertainment systems.
The telematic system found in Mercedes Benz cars, Mbrace2 gives drivers access to a number of useful and popular apps in the dashboard. This new system will first see production in the updated 2013 SL-Class, then roll out to other 2013 models. Facebook is one of the applications that will be available to the drivers through Mbrace2. This Facebook application is a simplified version of the original application that is driver-friendly and focuses on locating friends and nearby businesses.
5)     Biotherm and Renault
The ZOE Spa car is an outcome of the collaboration between Biotherm (part of the Luxury Products Division of the L' Oreal Group) and the automobile maker Renault. Employees from each company shared their expertise to develop features that are unconventional for a car's interior.
Biotherm's contribution: Its 65 year old experience and knowledge on cellular mechanisms in the skin and on the benefits of aromatherapy.
Renault's contribution: More than 110 years of experience of designing and testing equipment for vehicle comfort.
Result: The ZOE Spa Car which boasts of the following features:
100% electric
Intelligent climate control system that avoids loss of humidity inside the cabin
Toxicity sensor and various particle filters enable the passengers to travel in a clean environment.
An electric scent dispenser, to provide aromatherapy using essential oils based on the driver's needs:

Stimulation for the morning
Relaxation when returning from work
Alertness for night driving

Equipped with an ambient music system developed in collaboration with Creative Diffusion  to provide relaxing or stimulating music.
 A light-therapy system developed in collaboration with Philips, where a screen emits light to improve passengers' sense of wellbeing.
There are many other accounts of such collaborations and the great products/services that they have helped create.  What I would like to highlight with these accounts is that:
Collaboration is the future.
All of us can achieve more when we work together.
Collaboration is not limited to groups working in one field. It can cross any boundary as long as the final goal is well defined and clear.
Collaborate today for a better tomorrow.