Targets for Rooftop Solar

  
Rooftop solar  is the fastest-growing renewable energy sub-sector in India. It has achieved a cumulative capacity of 1.3 GW through March 2018.
Source: Bloomberg New Energy Finance (BNEF) report.
The per capita energy consumption in India is one third the world average and one hopes that Solar energy will improve the gap.
The BNEF report said that India's 40-GW target for rooftop solar PV by 2022 represents a $23 billion investment opportunity. This has happened largely because rooftop solar power is now cheaper than commercial and industrial power in all major Indian states, according to BNEF.  Costs have halved over the last five years. Overall, because of increased competition and low solar panel prices, setting up rooftop solar systems has become cheaper than the global average by between 39% and 50% in India.
Rooftop Solar Financing
A new partnership between the World Bank and the State Bank of India (SBI),
India's largest bank ensures that the market for rooftop solar has also begun to take off as financing is more readily available.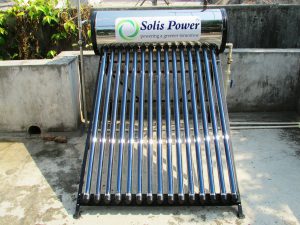 "Solar parks need land, and land is scarce in a densely-populated country," explains Simon Stolp, lead energy specialist at the World Bank in Delhi.
"Rooftops, on the other hand, hold huge potential."
The Ministry of New & Renewable Energy has proposed a new-look rooftop solar power incentive program that targets commercial, industrial, residential, and institutional consumers. Known as the Sustainable Rooftop Implementation for Solar Transfiguration of India (SRISTI), the program will have a financial support worth Rs 23,450 crore ($3.7 billion) from the government
In a previous Blog, we listed the players in the Indian Solar ecosystem. Here we will look at the Solar EPC (Engineering, Procurement and Construction) companies who take up Solar Rooftop installations.
Rooftop Solar is dependent on the following factors.
Rooftop  Construction
Ideal  rooftop construction of concrete or some heavy material is ideal to take the weight of the panels and the inverter. Rooftop solar PV plants are fairly heavy (about 30-60 Kgs/m2). A 100 kW off-grid/hybrid inverter can weigh more than 1 tonne and occupy only a few square feet, creating a load of several hundred kilograms per square foot. Batteries can be heavy and may need installation on special beams or on the ground. Asbestos and other flimsy roof construction will not support the weight.
Rooftop  Area

 
Area of the rooftop that is free and available for installation of solar panels. Typically, a 1 kWp system requires 100-130 sq.ft (or 10 sq.mt) .
Area that is shade free . Shade reduces the efficiency of solar panels, by reducing the output from the panels.
Number of Panels
The available rooftop solar area, decides the number of panels. Panel efficiency determines how well the panels will convert solar energy into electricity. This depends on the type and brand of panels  installed. The higher the panel efficiency, fewer the panels needed. Clean panels regularly to maintain high efficiency. Most panels used for rooftops are Crystalline as Thin-Film modules require more installation area for the same capacity.
Estimate energy generated
The number of panels will determine the electricity generated. The energy required depends on the wattage of the appliances normally connected. Total energy requirement/day (Wh) = Wattage of appliance * No. of appliances * Hours of working.
The total energy requirement  is multiplied by 1000 to get the kWh/day rating.
Decisions
Other equipment needed depends on what the user wants to do.
Feed to the grid -this depends on the solar policy followed by each state.
Night time usage determines set up of a battery
Diesel generator as a backup. This means that the solar system needs to integrate with both the diesel generator and the grid.
Inverter
Solar panels  connect to the Inverter which converts direct current to alternating current to supply appliances. A 30-45% safety margin is used to  calculate  inverter size. Required Inverter size = Total Wattage of all appliances*(1+45%) . Inverters should be of good quality for maximum conversion. Most popular are solar string inverters. Inverters can also serve  as a display and monitoring station, in which case they must be protected from rain and direct sunlight.
Battery
A battery pack  stores energy for night time usage and also helps in self consumption of energy. "Deep Cycle" batteries (generally lead-acid) are  best suited for a solar PV system. They last for 5 to 10 years and are 80% efficient (can reclaim 80% of energy stored in it). These batteries  provide electricity for long periods.
Display and Monitoring
Inverters can serve  as  display and monitoring stations so they must be protected from rain and direct sunlight. Standalone monitoring and display stations  connected to the inverter, display energy produced. They can be installed indoor for easier monitoring.
Mountings
Rooftop solar panel mountings need to withstand wind pressure building up under the panels during storms.
Sources

:
http://www.renewableenergyworld.com/articles/2017/11/rooftop-solar-in-india-is-a-23-billion-opportunity.html
http://www.worldbank.org/en/news/feature/2017/12/07/india-transforms-market-for-rooftop-solar