A collaboration tool is as good as its fit. The fit unfortunately is not a product that is on sale. To achieve a successful collaborative work environment, a good fit needs to be "created'. Some of the considerations are
An organisation has to ensure that the tool caters to the existing roles, processes, metrics and work culture.
The tool must reflect the fluid work flows in an intuitive way.
The tool must solve a real problem. Something which all the team members experience and would actively collaborate against.
The tool has to help find value in the tasks by providing content in the right context.
It is imperative that the tool is used by everyone, including the managers and leadership.
The tool needs to collate the collective intelligence and put it to use to solve "real" problems.
Good collaboration needs to be applauded and let everyone see the recognition.
Case Study –
How did an organisation turn around and get on the top of everything in lesser time?
Planning – For Release Management
Objective – Deployment of an entire application for use by end customers.
The release of an application is an important milestone for any business these days. It contains multiple components, which must be installed and configured correctly to match the existing components.
The release management used a manual approach with excel sheets.
Data Points:
Type of tasks
Details of issues/requirements
Collaboration from other team members in the form of comments.
Resource allocation
Task Tracking via status
ETAs
Broad overview of all components on weekly basis
Plan for quarterly meeting
Config & Tech tasks
To track all the above, one template was not sufficient. There were four sheets that needed to be tracked and updated. Here are the screenshots:
Random Task List With IDs
Random Task List With & Without IDs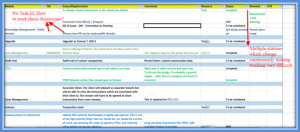 Weekly Summary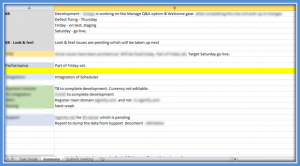 Quarterly Roadmap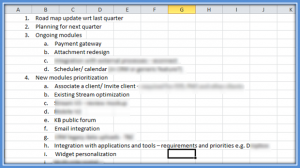 Config Tasks

Tech Tasks

The disadvantages of the excel templates were as follows:
It needed full-time work of one resource to dedicatedly ensure that all the fields of the excel template were filled up. As is the case with most release management, the organisation in question had its hands full with work.
Tracking unfinished tasks, tasks inching towards deadline, unfinished dependencies facing critical bottlenecks, etc was a daunting task again.
Manual updation of trackers come with a time consuming worry of errors, duplication, incorrect or incomplete entries, so on and so forth.
Weekly review & quarterly plans could not be converted into measurable, executable, trackable tasks as the collaboration tool is intrinsically handicapped.
It was hard for the managers to be on top of everything and demonstrate collaborative culture without micromanaging every task. This led to a culture erosion in the team.
Unfinished tasks often lead to a silent built up of blame game instead of problem solving attitudes.
If all of this sounds like everyone involved was having a harrowing time, it is absolutely bang-on. Fortunately, the leadership wanted to change the scenario and looked at creating a systemic change rather than a symptomatic change. Check out how.